Odoo SaaS is a software distribution model in which a third-party provider hosts applications and provides access to users through the internet. Odoo SaaS kit is a well-tested and proven site management system that accepts PayPal payments. It has a framework for creating membership-based applications including account upgrades, tiered pricing levels, and multi-tenant data security in a single database. Let's explore the advanced features and benefits of using the Odoo SaaS kit.
Applications of SaaS
SaaS is one of the three main categories of cloud computing alongside Platform as a service (PaaS) and infrastructure as a service (IaaS). The hosted application model of SaaS is similar to the Application Service Provider (ASP). SaaS eliminates the need for businesses to install and run applications on their computers or data centers. It eliminates the expense of hardware acquisition, software licensing, provisioning, and maintenance. SaaS applications are used by IT professionals and C level executives across industries. There are various SaaS applications for fundamental business technologies including:
* Sales Management
* Customer Relationship Management (CRM)
* Point of Sale (POS)
* Human Resource Management (HRM)
* Financial Management
* Billing and Collaboration
Benefits of Odoo SaaS Kit
* Odoo SaaS minimizes the requirement of physical server setup to reduce site management costs
* Odoo SaaS kit provides a ready to use structure to businesses to enable them to start their own Odoo SaaS services
* Odoo SaaS scalability enables customers to access features on demand
* Users can easily access Odoo SaaS applications using internet-enabled devices
* Odoo SaaS provides several customization options to customers. They can access several innate modules as a time-based service without the need to buy them with a proprietary license.
SaaS Kit Architecture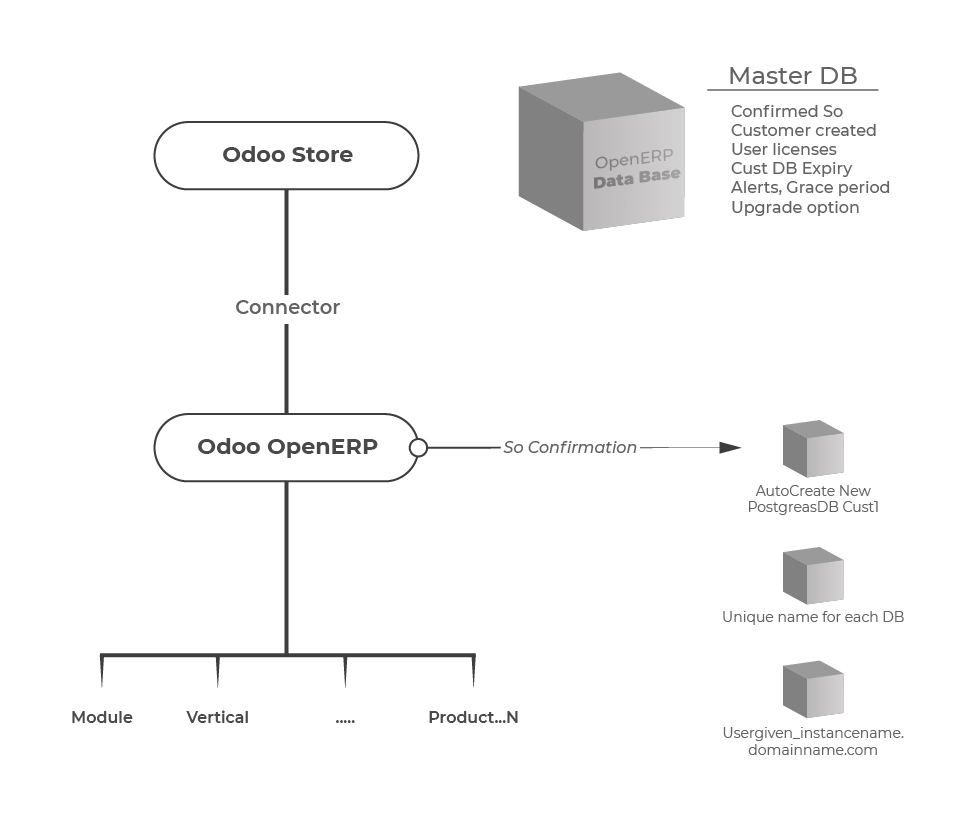 Odoo SaaS Kit
Features of Odoo SaaS Kit
Odoo Instance:
* A unique Odoo SaaS instance is created individually for each customer
* The user can either create the instance manually or use the scheduler to create instances of all orders
* The Odoo instance provided to customers contains all modules featured in their purchased plan and installed in the instance
* The login details are sent automatically to the customer's registered email ID.
Odoo As a Service:
* The module facilitates users to provide Odoo as SaaS to their customers in the form of instances
* It provides a structure for the subscription-based service model to the users
* Users can sell Odoo and its modules with Odoo instances as a subscription-based service to their customers
Customer Website Account View:
* Customers can check the subscription contract details in their website account
* The account details also display the modules included in the subscription plan
* Customers can check the status of their plan and login to their Odoo SaaS instance directly from the website account.
Subscription Plans:
Different subscription plans with featured modules can be created and published on the website for customers
* Customers need to purchase the plan to start the subscription
* Users can also include a trial period within the plan
To Read Full Blog: Odoo SaaS Kit: Features and Server Specifications