Used tyres contains rubber which can convert to oil through high temperature pyrolysis process. That is what our tyre to oil plant do. To extract oil from used tyres, the process is as follows: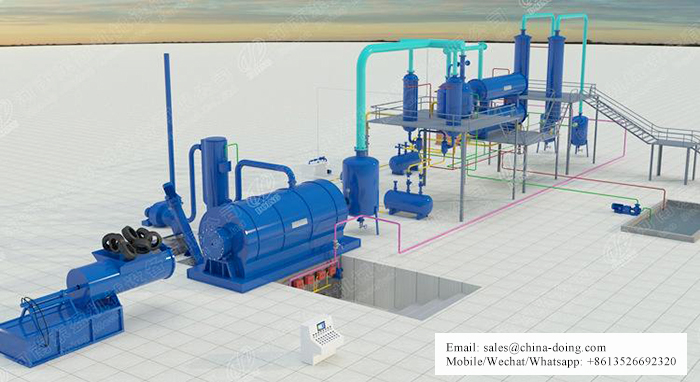 1. Feeding
The collected waste tires are removed from the steel wire and cut into appropriate pieces and then pushed into the reactor of the waste tyre pyrolysis plant.

2. Pyrolysis
After the waste tires are fed, heat pyrolysis reactor by fuel oil, coal, wood, LPG, etc. when the temperature rises to 200℃, only use tail gas to heat and keep the temperature between 260~300℃ for two hours, until no oil come out.

3. Cooling
Meanwhile, turn on the circulating water pump to cool the oil and gas into fuel oil. After that, the exhaust gas is recycled to heat pyrolysis reactor directly, thereby saving fuel.

4. Discharge
After the completion of the waste tyre pyrolysis process, the residual carbon black in the reactor needs to be discharged. After that, a new waste tyre pyrolysis process can be carried out.


The above is the introduction of the tyre to oil recycling process. The process seems to be very simple, but it should be operated by the professional engineer or under the guidance of professional engineer. For your safety, do not operate without training. If you purchased the tyre to oil plant from Henan Doing Mechanical Equipment Co., Ltd, free training will be provided for you. If you want to know more about tyre to oil plant, welcome you come to DOING factory for a visit.

Related recommendation:
What is waste tyre pyrolysis oil uses and its market price?
Tyre to oil plant cost
Contact: Ms Bonnie
Phone: +86-371-5677 1821
Whatsapp:0086-135-2669-2320
Skype: bonniezhao2
Email: oilmachine@wastetireoil.com
https://www.wastetireoil.com