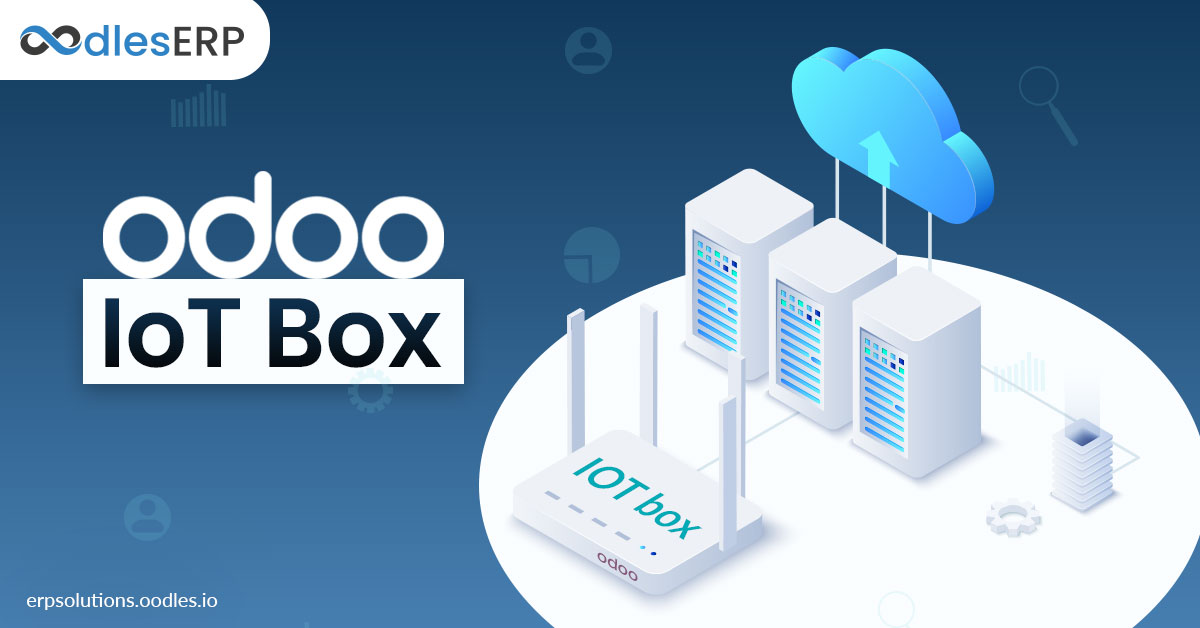 Odoo is an all in one suite of business applications that streamlines and automates business processes. Odoo version 12 has released a new IoT module. Odoo IoT box is a prominent choice for efficient conduction of business operations across all industry verticals. It enables enterprises to make functional use of IoT devices to enhance business operations. It extends the reach of ERP software to a wider audience with increasing capabilities. Let's explore how Odoo IoT box is increasing the Return on Investment (ROI) of businesses.
At Oodles ERP, we provide Odoo customization services for faster, simpler and secure management of business operations. We have a stack of more than 10,000 Odoo supported applications that can be customized as per business requirements.
Odoo IoT Box
Odoo IoT is a small raspberry pi based device that connects IoT sensors/devices with Odoo. It connects Odoo to different types of external devices like scanners, printers, cameras, and calipers. It resolves the issues occurring during the integration of ERP software and IoT devices. Odoo IoT box acts as a mediator between IoT and ERP through Wifi or ethernet cable. Additionally, the IoT box supports multiple device connections at the same time. Odoo IoT enables businesses to connect all types of tools and machines with ERP.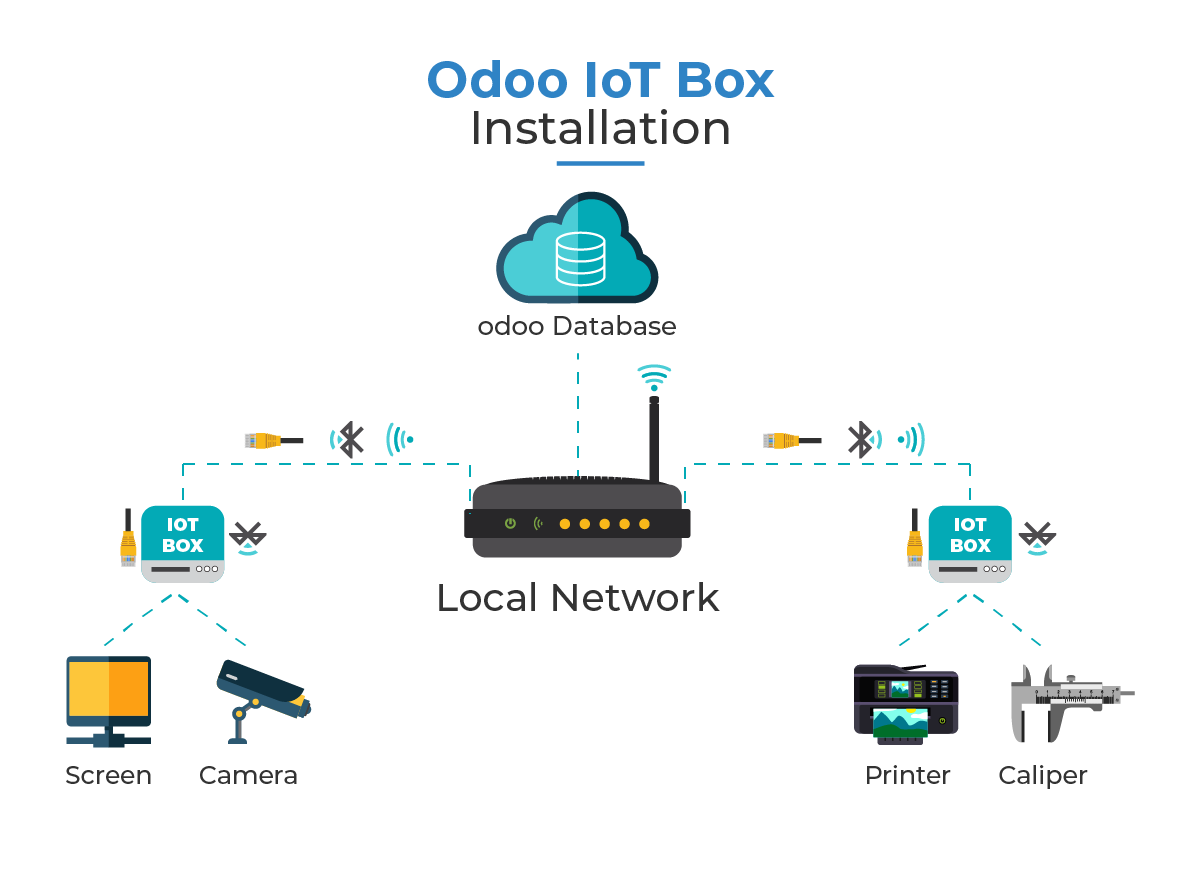 Odoo IoT Box
Connectivity Features of Odoo IoT Box:
* Bluetooth ( Wireless Bluetooth Connectivity)
* USB (Universal Serial Bus Support)
* HDMI (High Definition Multimedia Interface)
* WiFi ( Wireless Fidelity Network)
Configuration:
Step 1:
* Connect the specific devices to IoT box
* Insert HDMI or USB cables
* Turn or Bluetooth or WiFi on devices
Step 2:
* Connect IoT box to Odoo
* Switch on IoT box
* Install the app of Odoo IoT box
Step 3:
Click to connect with the IoT box menu. Here, there are two options:
For WiFi:
* Copy the token
* Connect to the IoT box WiFi
* Enter the copied token on the redirected page
For Wired Network:
Click Scan
Step 4:
The IoT boxes and the devices are displayed as shown in Fig (1.0) and Fig (1.1)

Odoo IoT Box
Fig (1.0)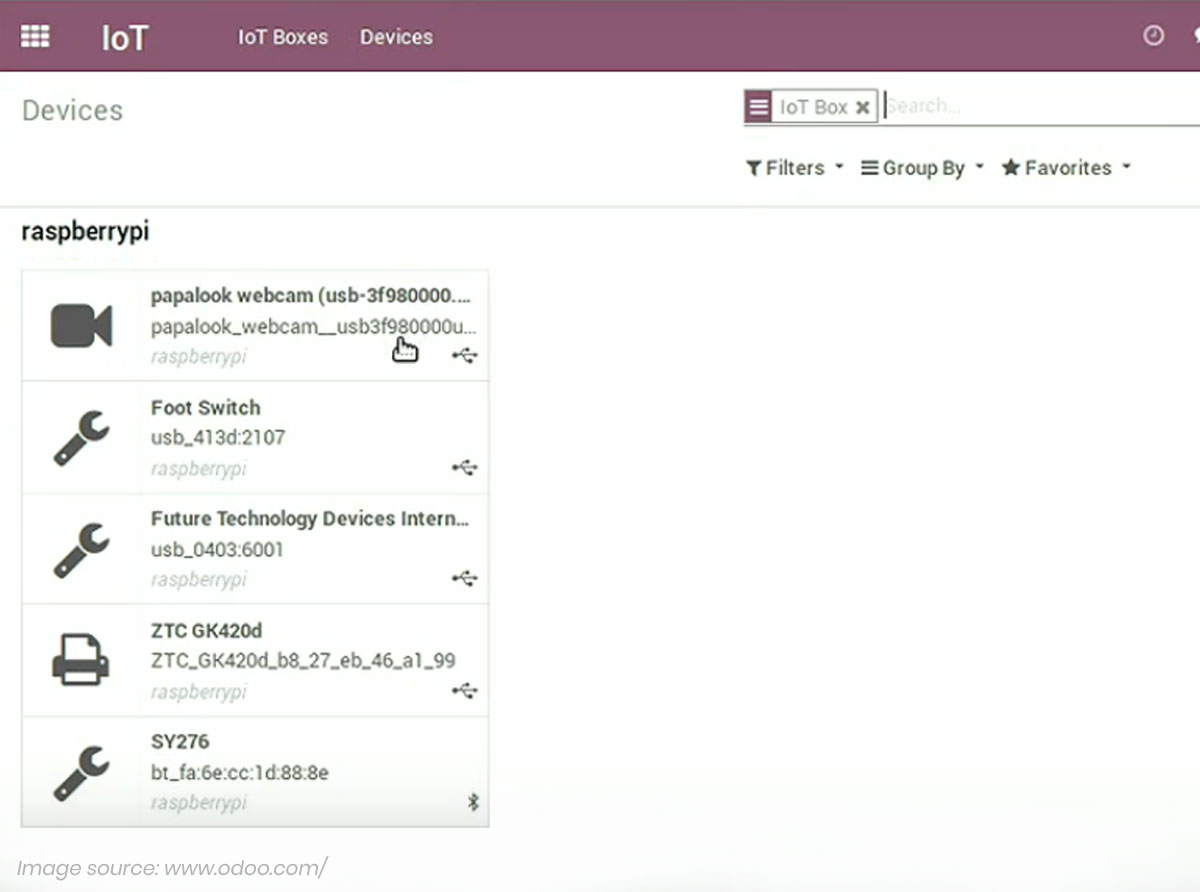 Odoo IoT Box
To Read Full Article: Improving ROI of Businesses with Odoo IoT Box